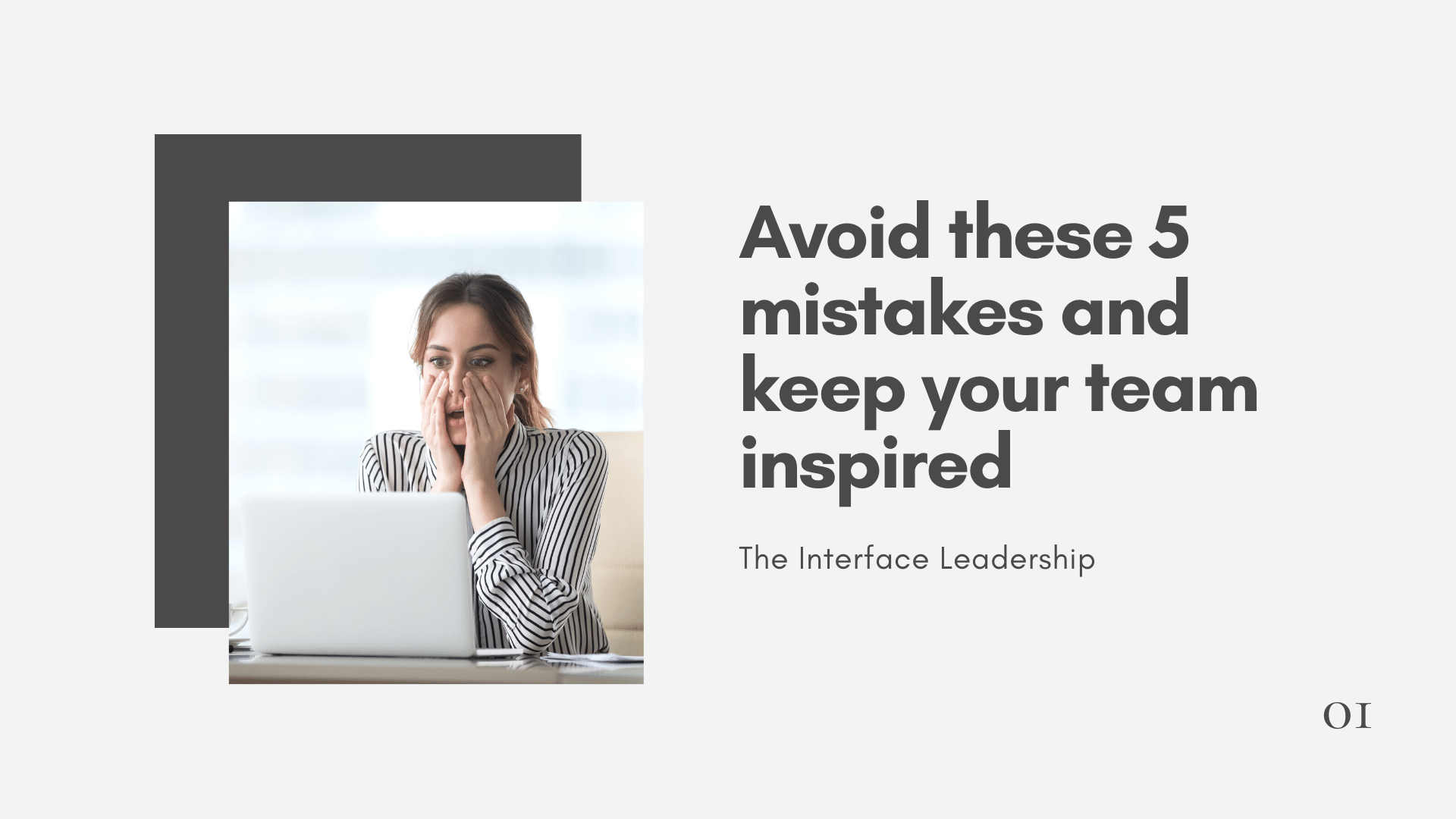 Avoid These Five Mistakes and Keep Your Teams Inspired
It's no secret that engaged employees are invaluable.
According to Gallup research, engaged employees lead to 17% more profitability, 59% reduction in employee turnover and 41% fewer absences. These factors are fundamental in building high performing teams and committed business units.
With the global pandemic and rise of the new normal, keeping teams inspired and engaged has never been more imperative. 
Avoid making these fmistakes and keep your team motivated:
A common mistake most companies make is assuming that employees understand the vision, mission and company goals as communicated.
Words mean different things to different people. Understanding that the diversity of most teams demands clear and effective communication is paramount to providing orientation.
When people have clarity, understand the communicated goals and how their contribution compliments the bigger vision, they are intrinsically motivated, they stay engaged and productive.
As a leader, you will always play a role in how your employees feel.
According to a study by brain-imaging, when employees recalled a leader that had been unkind, they showed increased activation in areas of the brain associated with avoidance, and the opposite was true when they thought of an empathic leader.
Empathy in leadership is imperative in fostering the individual and collective resilience needed as the world navigates these uncertain times.
Listen to what your people are saying to you.
How can you expect people to go the extra mile for the business and your customers if they do not feel valued, appreciated and understood?
Not investing time in them
Regardless of industry or size, people are the pillars of organisations. However, this fact gets overlooked far, too often. 
Employees must never only be a means of getting the job done, attracting more customers, and thus higher revenue. 
Take the time to know your employees. The people they are outside the workplace, what motivates them, their goals, aspirations and how working for you can bring them closer to achieving those goals?
As Richard Bronson said, "Take care of your employees, and they will take care of your business."
The pandemic ushered a 24-7 world driven by technology and globalization. There has been an increased demand for talent and customer services across borders. Time zones beyond the usual 9-to-5 have caused the emergence of new working hours, alternative shift patterns and changing needs of the workforce.
To keep up, leaders must be agile and swiftly adapt to these changes. By empowering people to work where, when and how they work best, they will be productive and motivated.
Flexibility has proven to be a vital asset when it comes to successfully navigating these uncertain times.
Overlooking the small wins
It's easy to overlook small wins when you're focused on surviving and navigating unchartered waters. 
Leaders today are required to be intentional about recognizing milestones, however small.  Teams need and deserve encouragement to reduce anxiety, maintain a positive outlook and offer safe learning opportunities.
People want to feel seen, valued and engaged. Engaging with the people we serve enables us understand the levers for improving loyalty, commitment and retention our organisations deserve.

Invest in people. They will stay inspired and engaged. 
Read more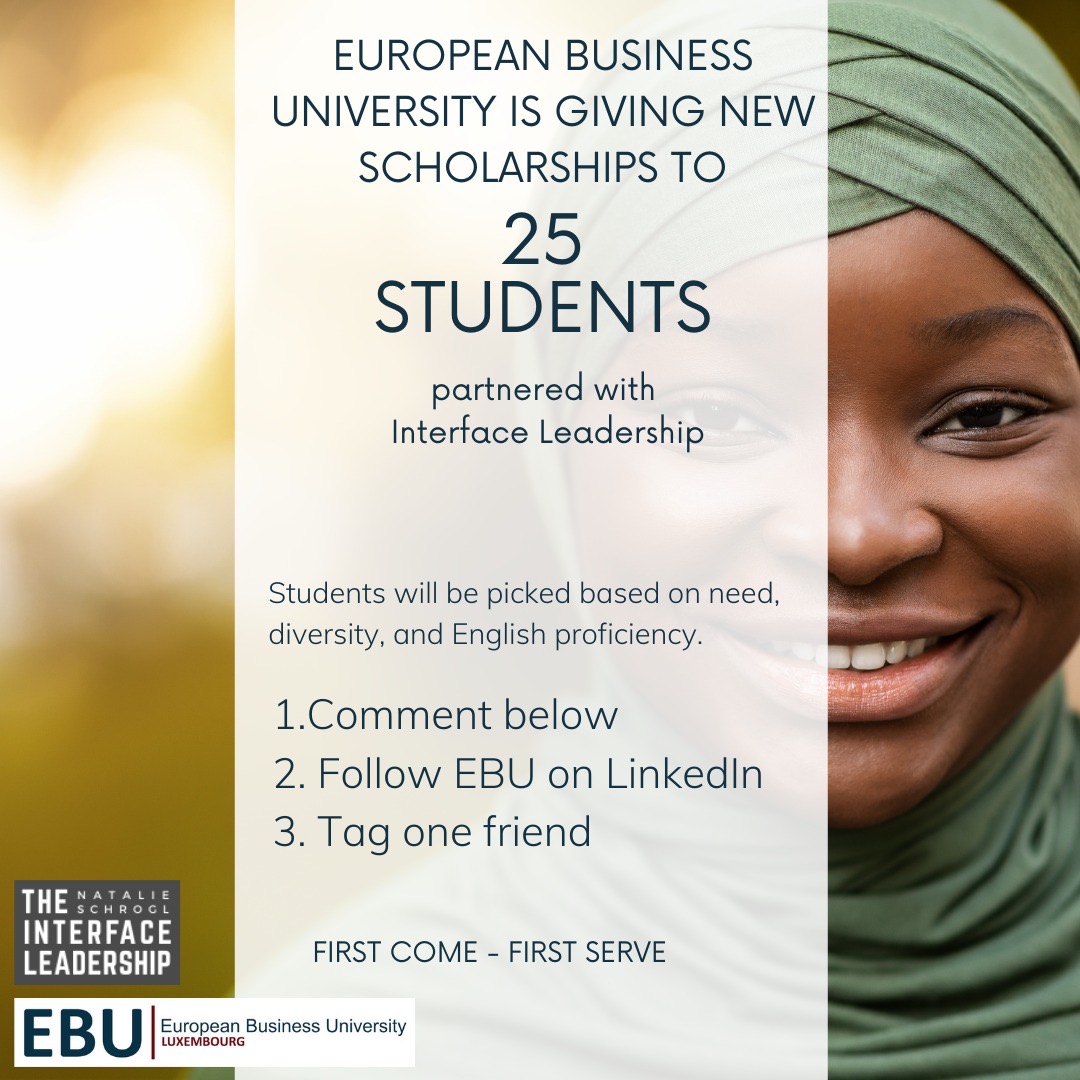 The Interface Leadership, powered by European Business School has 25 full certificate scholarship program to offer. 
We are focusing on students from developing countries in Eastern Europe, Asia, Africa and the Americas.
The overall aim of the EBU Scholarship program is to contribute to the Sustainable Development Goals in education. EBU aims at targeting the learning deficit by enabling students to take part in Certificate programs via e-Learning over a period of 13 weeks.
See details here:  EBU Scholarship Programs (PDF) 
The Certificate courses under the scholarship program: 
Business Management
Financial Accounting
Marketing Management
Business Finance
Introduction to Python
Business Ethics 
EBU has enrolled over 350 students in the Certificate Scholarship Program from over 25 countries .
This is what current scholarship students are saying.
So far EBU online learning has been very insightful for me. The weekly topics are very practical and cites a lot of current companies as examples and this makes me to appreciate the importance of the knowledge I'm acquiring. Also, the Webinar classes too are great and stimulates my interest to know more. In a nutshell EBU online school is a great initiative and the teaching been offered is highly relevant to the business field. Thanks again. 
Great initiative. I must say it has been a wonderful journey, and learnt so much on the Course. Our Course professor was very resourceful, impacted knowledge to us and his mode of teaching was very clear and generated my interest to learn more. I must say again that EBU online schooling is a flexible and good experience. Keep it up! Great opportunity and I hope this opportunity is extended to more African students.
"I feel so fortunate to receive scholarship for Financial Management program through European Business University. The professor put in every effort to explain in details the accounting methods. He was available for questions via forums and email. The amount of information provided by the professor is an outstanding resource. It has a perfect mix of information for required learning, combined with plenty of deeper incite and examples to make the program interesting. I truly enjoyed this class and really liked the student- professor interaction. All in all, a good experience and a must for business oriented professional.
I am grateful for the good work the professor did. You are a wonderful soul. You were  always available and ready to listen. Thank you. To the entire EBU Luxembourg, words  are not enough describing my gratitude for giving me the opportunity to be part of you.  Thanks, and may your territories be expanded."
This was a very well thought of and executed course. Everything was straight to the point. I enjoyed my learning experience and would be looking forward to more.
It was great learning with EBU. Am glad the staff knows how to relate well with  students. Much appreciations"  
If you feel that this is a program you would like to be part of, EBU would like to invite you to refer those that you believe would benefit from the opportunity. 
EBU believes in providing equitable and affordable Quality Education and look forward to having you help us achieve this goal.  
For more information, please contact and do not forget to reference The Interface Leadership 
Ms. Ann Matati
Administration Assistant/Scholarship Coordinator
Office of Administration and Admissions
European Business University of Luxembourg, Asbl.
Château de Wiltz, 35, 9516 Wiltz
Grand Duchy of Luxembourg
Email: Diese E-Mail-Adresse ist vor Spambots geschützt! Zur Anzeige muss JavaScript eingeschaltet sein!
Read more